How to open a fish shop?
The sale of fish, especially in the harvesting season, is one of the fastest growing businesses because it is mainly tourists who travel to different parts of the world at different times of the year to consume the marine delicacies that each region offers.
Although, opening a store to buy and start selling fish sounds a fairly simple idea, the truth is that it requires a series of aspects that you must take into account to take this profitable business idea on the best path. Therefore, if you are interested in this idea, we invite you to this step-by-step tour where you will be able to have more clarity on how to open a fish shop step by step.
Let's get started!
The pet business, get to know it all here
First steps in a fish store
If you do not have knowledge or experience in this area, the first thing to do is to research and learn enough about the market, so that you can get your business on track. By this we mean that you learn about the marine products that are sold at different scales, the conditions in which they must be, the particular temperatures that are correct for each type of fish, among other very important aspects.
After this, you will carry out a market study to learn about the conditions of the sector you are launching into. Research the fish that are most in demand, as well as the location of your potential customers and profiles of frequent buyers, including the location of your competition. All this information will be key to develop strategies that allow you to compete in the market in better conditions.
And finally, make a business plan specifying the activity of your store, the equipment you will need, supplies, the first package of products, possible staff, rental or purchase of the premises, conditioning and decoration, among other data that will allow you to round up the initial investment capital.
How does a fish shop work? 
This business idea proposes to open a store that specializes in selling fish to different types of consumers, from individuals to other businesses such as restaurants and shops selling other products that include the sale of fish in their offer.
The fish should come from suppliers who provide the best quality so that the fish can be consumed in an estimated time. The fish will be sold ready to be prepared in the kitchen, so in the store it should be ready to put on the pan.
Requirements to open a fish shop
Like any business, you will need to have a series of permits and operating licenses that will prove the legality and transparency of the business you are about to start. To find out what procedures you need to carry out and what documentation you need, you will need to go to the entity in your region so that they can guide you through all the procedures, as these processes can be different in each region and country.
Location: one of the main qualities that this product provides us with is that it can be consumed in different regions, since we do not necessarily have to be located in areas close to rivers and other water sources to sell very well.
Local: whether you buy the premises of operation, rent it or already have it, the key is that it is in a visible place and especially that it is located near other food businesses, because that is where your target audience will be directed. In addition, you must decorate it with the theme you are focusing on and its facade must invite customers to enter.
Equipment: the ideal is to focus on the fish specialty of the area you are in, since consumers will surely want to try it. Among the products sold in a fish store, we find: cod, salmon, horse mackerel, anchovy, hake, anchovy, sardine, squid, among others that depend on the region you are in. Although you should offer the specialty of the region, you should also expand the offer to other products.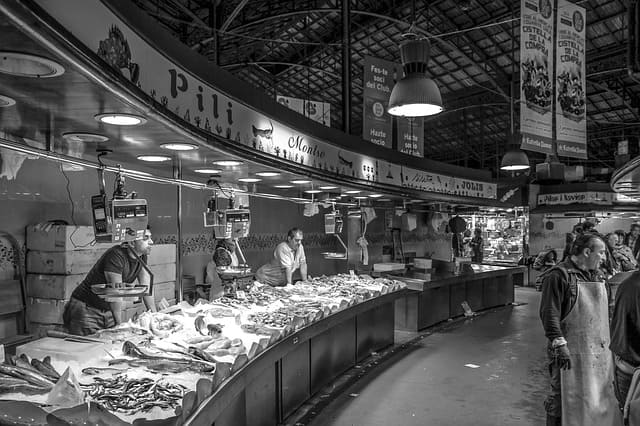 How do I promote my fish shop?
Although the facade of your business will be one of the focuses of attention, it is important that it is promoted in other spaces and by different means. Flyers and cards always come in handy when delivering to potential customers, you can also advertise in the local newspaper or radio.
The reach of the Internet has made it a very important tool for disseminating information, so it is important to create a space where people know you, even where you publish seasonal offers, etc.
Who will be your customers?
Food industry businesses are mostly visited by home food preparers and fish lovers
that we can find from different ages. However, the target audience does not end there, as a fish shop can also be visited by restaurant staff for the preparation of their dishes, for example, and small shops that purchase the product there to take it to their location areas.
Contact the suppliers
A fundamental aspect for the life of the business, are the suppliers, who are going to provide us with the product that we will put on sale. In this process you have two options, either partner with licensed fishermen who can provide you with the product or develop your own fish farming for the business. Although both options are very different, if you want to reduce initial costs, then it is best to start with the first option.
If you decide to buy from suppliers, you will also need to start researching the main products they can provide, the conditions, the wholesale purchase, the state of the product, the legality of the business and the prestige they have in the market for other similar businesses. This will help you to reduce the risks of buying from a supplier who then does not comply with you.
Tips for opening a fish store
To ensure that you provide the necessary conditions for the product, it will be necessary to keep the coolers under constant review, as well as to know everything about the handling of the product.
Remember that the promotion of your business is a fundamental aspect, so you can call the attention of your customers with regular promotions, discounts on a particular product and other offers that call their attention and are in your power not to risk the profits. But remember that none of this will be completely efficient if we do not care about customer service, so you should attend to it in a friendly, respectful and cordial way.
To continue with the diffusion of the business, we will have to take into account the profile of our potential clients (that we have already identified), to approach them and offer the products. Take advantage of the high season of consumption as Easter, where people increase the purchase of fish to promote outreach and advertising activities that bring them to your fish store.
Weak points: the care of this product, as well as the quality of the fish, must be your main priority. That is why it is necessary to analyze very well where the product comes from, the conditions in which it grows and in which it arrives at your store to be marketed, because processes that put the quality of the product at risk, could significantly affect your business in health issues of those who consume them, for example, so you must pay attention to the product from before it arrives at your store and provide the right conditions while it reaches the consumer.
Advantages: It is a business idea that works very well if you have a strategic location that we have studied before, because this will allow us to be close to potential customers and compete, little by little, with the most important businesses in the market.
You have the possibility to offer your product to different clients, so take advantage of the promotion channels and offer discounts to buyers of large quantities.
With a good offer of fish, where we have variety and the best quality, easily a business like this can grow in a short time. Make sure you serve each customer as well as possible.
Start your business today.