How to start the Pet Grooming Business
A pet grooming business is a good way to get a part-time or full-time income. If you enjoy working with animals and have the patience to give them close attention, you may find a pet grooming business rewarding and profitable.
The demand for pet-oriented products and services is constantly growing, so this is one of the most important profitable options in today's market, where pet ownership has increased significantly.
Find out here everything you need to get started:
Look here all the businesses that are pet owned
First steps in a pet groomer
Carry out a market study that will allow you to find a strategic area to set up your business. If possible, it should be an area with high pedestrian flow, but keep in mind that you should have distance from other pet businesses, especially hairdressers. So you should also identify your competition. Check the costs of the services offered in that place.
Then, make a business plan in which, taking into account everything you need, you can make a detailed description of your activity in general. This way, you will be able to quote for each of the tools you will need, from the services and rental of the premises, to the decoration and products for sale. This will allow you to have an approximate value of the investment capital needed.
How does a pet groomer's shop work?
This business idea proposes to open a shop specialized in pet grooming. This service includes all the hygiene activities that a dog or cat may need, from bathing, to nail cutting, ear cleaning, among others.
This business is required to be located in a commercial area with a high flow of pedestrians and families, who usually have pets. However, you can dispense with opening a store and offer this service to established businesses. This is in case you want to decrease your investment costs and start as an independent while gaining experience to open your own hairdresser's, even operating from home.
Requirements to open a pet hairdresser's
Find out what special license you need to run a business like pet grooming.  In some cases, a jurisdiction may impose different requirements for those who want to run a home-based pet grooming business instead of a commercial location. So you have these two options to get started.
Certification of your service: Get certified as an animal groomer. Certification can increase your chances of getting customers in the pet grooming business. You will usually have to pay a fee and pass exams for each certification you seek. Some certifying organizations may also require you to take workshops before the certification test.
Insurance: Apply for insurance for your pet grooming business. This will cover you in case of a liability claim. For example, liability insurance will cover you in case a pet is injured during its care.
Equipment for your business 
Buy supplies and equipment for your animal hairdressing business. You may need grooming tables, bathtubs, dryers and cages. You will also need: combs, brushes, scissors, tweezers, shampoos, appropriate clothing, gloves, mouthpieces and styling tools.
You will also need to organise a reception area where they will be received and where owners can wait for their pets if they wish. On the other hand you have to keep in mind that cleanliness is paramount. No one will want to go into a dog groomer's with a bad smell, hair strewn everywhere or puddles of water.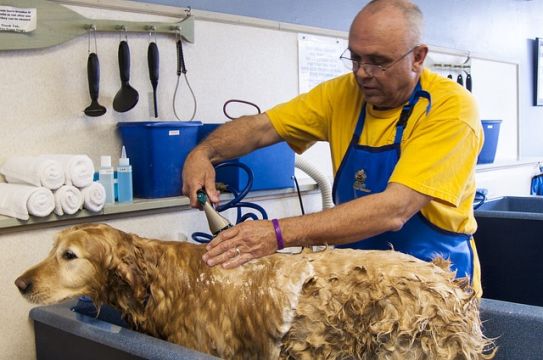 How do I promote my business?
Depending on your advertising budget, you can use brochures, business cards, direct mail, phone books and newspaper ads to get the word out about your business. If you have a large advertising budget, you can also advertise in magazines or on a local radio station.
Visit pet shops and stores, pet malls, and veterinary clinics to introduce yourself. These businesses may offer referrals or allow you to advertise on their premises. Don't forget that whoever is not on the Internet, practically does not exist. You can create a website and / or social networks in which you give to know promotions of the day, discounts, services, contact numbers for booking, etc.
Tips for opening a pet hairdresser's and making money
Basically the key to your pet grooming business will depend on the quality of service you offer, so it is essential that in addition to knowledge, certifications or other learning, also the dog's
investment is for quality products and instruments for the bath and the whole process of the pets.
This implies that we have knowledge about the products we apply, the type of fur and skin of the animals so that we do not have complications in relation to it.
If you are not yet practical enough to teach others, offer your services in a pet shop. But you must continue to train yourself, and put considerable effort into planning and advertising your business.
Weaknesses: setting prices too high is not a good strategy to increase your income, but lowering them is not a good strategy either, and this is a common mistake that many entrepreneurs make. What we must do is carry out a market study that allows us to establish fair prices according to demand.
You can also set up different types of comfortable plans and with other services that customers prefer to get more variety in what they request.
Points in favor: although we talk about a particular service, in this case, the pet grooming, the truth is that whoever enters your business would expect to find more than this. That is why it is convenient to acquire some basic products for hygiene and pets' needs, since this way you will be able to increase your income.
It is an activity required by those who have pets, a growing sector that with a good location and good service, can be one of the most profitable businesses in the sector. Take advantage of its growth and install a unique and special service.
There is much to gain from a pet groomer, for example, you can offer the service at home during weekends or weekdays, apply discounts and promotions for days, offer a surprise item at the end of the service, among others.
Your possibilities are many to start with, so what are you waiting for?